How to download Pubg mobile 1.2.0 Update in India
The battle royale genre has grown immensely on the mobile platform, and titles like PUBG Mobile have emerged as the frontrunners. The rise in its popularity can partially be attributed to frequent updates introducing new features in the game.
Today, i.e., January 12th, the highly anticipated PUBG Mobile 1.2 update has been rolled out, and players are excited to try out the new features introduced in the title. The Runic Power mode is one of the exciting game modes to make its way in-game.
This article provides the users with the details of this game mode.
Runic Power mode in PUBG Mobile
This match type is one of the key elements introduced in PUBG Mobile with the 1.2 updates. It is available for a limited time, from January 12th to March 7th, on the Erangel map. It will offer a fresh battle royal experience to users.
This game mode offers three runes, each of which provides unique powers that help users defeat foes and triumph on the battleground.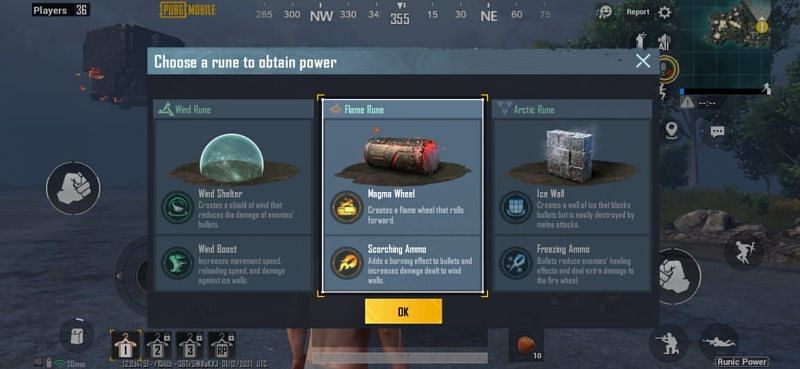 When players initially start their game, they have to pick a Rune energy type on the Spawn Island, depending on their playing style. Each Rune gives them two skills, classified into Summon and Boost.
Here are the Runes, along with their skills/abilities:
Flame Rune:
Summon skill – Summons a wheel of flame that rolls forward slowly, dealing burn damage to enemy players it touches.
Boost skill – Adds a burning effect to your Ammo for a short time.
Arctic Rune:
Summon skill – Summons an ice wall. Each block of the ice wall can be destroyed separately. When the ice wall appears, it will lift up players or vehicles directly above them.
Boost skill – Adds a freezing effect to Ammo for a short time. Freezing reduces the effectiveness of healing.
Wind Rune:
Summon skill – Summons a semi-transparent shield of wind that reduces the damage of bullets shot from outside the shield.
Boost skill – Increases your movement and reload speed.
Players require Rune energy/crystals to use the skills/ability. They can pick up the crystals in the match.
PUBG 1.2 Patch Notes Metro Royale: Honor (From January 12)
The Newest Chapter

Metro Royale: Honor will be available after the game is updated. In keeping with our Season tradition, at the start of a new chapter, your rankings and inventory in Metro Royale will be reset. Fame and NPC Favorability, however, will be retained.

New rewards will be available in the latest chapter. Accumulate Honor to get voice packs, outfits, and other permanent rewards!
Added new weekly rankings, including Loot and Elimination Rankings.
Improved enemy AI from Steel Front and the Cobras to make them more intelligent and challenging.

New Metro Royale Honor System
Your Honor represents your strength in Metro Royale Mode. Accumulate Honor to get voice packs, outfits, and other permanent rewards.
Honor is obtained by defeating players or picking up Honor items. A player's Honor level increases when a player reaches the maximum amount of Honor. Honor can also be obtained by completing weekly missions.
Honor is reset whenever a chapter is updated. Players will start with an initial amount of Honor based on their performance in the previous chapter.
Steps For Downloading 1.2.0 Pubg Mobile Update
This method consuming more data so use this method if you have unlimited internet.
first, you will uninstall your game from your phone
Download the pubg mobile 1.2.0 update kr version
After downloading, you can play and enjoy the game its safe method
New Solo Mode

In Metro Royale Mode, all maps and modes support Solo.
Solo players won't encounter players who play as a team.
Metro Royale Improvements

Mail can be read in the Metro Royale Lobby.
Removed the NPC chat feature.
Missions do not award any more Fame after your Fame reaches the max level.
Missions do not award any more Favorability after your NPC Favorability has reached the max.
PUBG 1.2 Patch Notes New Firearms, New Options